Report From the WFMU Record Fair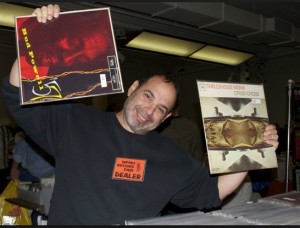 Sorry I haven't been posting regularly. I feel like I've been doing a lot of apologizing for this lately. I do have a lot of real work, but that is no excuse, right? I will try to do better. Last week I was also engaged with preparing for the WFMU Record Fair at the 69th Regiment Armory on 26th Street in Manhattan. I had a table on Friday, and arrived around 2 p.m. for my setup, so I was able to walk around a little. There were a couple of tables that had some nice jazz records, but by the time I got there, several of the dealers from Japan had already swooped in on them and were pulling out the best pieces. I have come to know these dealers over the years and I like them very much and am happy for their success in getting records because I realize they are working on relatively low margins, spending money to come to the States every few months and criss-crossing the country in search of records that may or may not be marked up sufficiently when they return to Japan. So, if they want to sit outside at 8 a.m. waiting for the dealers to show up, more power to them. I heard of a nice copy of Tommy Flanagan Overseas selling for $1,500, and an original Cliff Jordan Blue Note selling for $400. Apparently there was also a Benny Green Back on the Scene somewhere at the show for a $400 price tag. As for me, well, frankly, I thought I had the best jazz records at the show and at the best prices. I had a bunch of 10-inch LPs from the Baltimore collection and I priced them to sell. Needless to say, they all went: Three or four Miles Prestiges, a Max Roach-Clifford Brown on Emarcy, a Clifford Brown-Art Farmer on Prestige, to name just a few. I also had a few Bird Dial 78s that I sold for just $30 each. As for 12-inch LPs, I sold several Horace Silver Blue Notes, a Lou Donaldson Blues Walk (for just $250), Sonny Rollins Plus Four, plus many others. Many of these went to the dealers from Japan. By the time the show actually opened it's doors at 4 p.m. Friday, I had already sold about half of the records I would sell over the course of the entire day. It was fun, and it was nice chatting with many of the Jazz Collector readers who stopped by. In fact, anyone who mentioned that he read Jazz Collector got a special discount. In the end, I arrived with seven boxes of records and left with five boxes of records. I still have some nice records in those boxes, including a Bud Powell original Blue Note, a Phil Woods original Prestige and a Lou Donaldson Swing and Soul. Next time, I guess.
BTW, discerning readers will note that the picture with this story is a retread from a previous show. When I got home I realized I forgot to take a picture, so . . . .