Jazz Vinyl Rarities From Red, Funk & France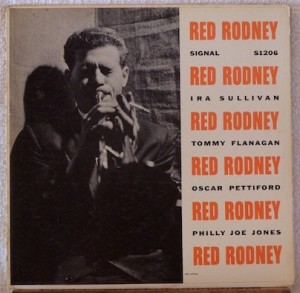 Sorry, again, for the gap between posts but, as I said, the workload has been particularly heavy lately. Thanks to ceedee for his occasional emails keeping me up on things I may have missed. He sent me two this week, the first being: Red Rodney, Signal 1206. This was an original pressing listed in VG++ for the record and VG+ for the cover. The final price was $1,413.99, so I can see why he sent it. That's the highest price I recall seeing for that record, although a quick search over to Popsike shows that there have been several higher and this one falls right into the normal range, although that VG+ cover would be of concern, at least to me, at least if I was paying $1,400, which I would never do anyway.
This one also came from ceedee and it's a bit of a strange one, not a record we normally watch here, but I'll post it anyway: James Mason, Rhythm of Life, Chiaroscuro 189. I must admit I don't know the artist or the music. I do know the label and I don't recall seeing a record on this label selling for collectible prices, until this one, which is perhaps why ceedee sent it. This was listed in Excellent condition for both the record and the cover and it sold for $380, with 15 different bidders and 38 bids.
Here's one from eBay that's already been bid up to more than $1,000 but still has not reached the seller's reserve price: Zoot Sims Avec Henri Renaud et son Orchestre et Jon Eardley, Ducretet-Thomson 250 V 023. This is an original French pressing listed in M- condition for both the record and the cover. This is a record I've never seen in person and rarely see on eBay. The bidding is at $1,136 with nearly three days left on the auction.