Free Jazz for the $1,000 Bin
W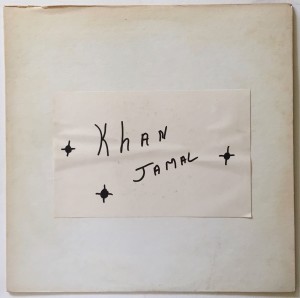 ell, with Al manning the helm frequently in recent months, I haven't popped in too much with observations of jazz records that are outside the "classic" era of collecting this music. But there have been quite a number of interesting eBay auctions and as with seemingly almost every kind of rare or semi-rare record, the prices keep on climbing.
Let's start with the recent spate of avant-garde jazz records sold by a sometime commenter on the site, nobbyknucks. The cream of the crop was this 1972 LP by Philly vibraphonist Khan Jamal, Drum Dance to the Motherland. It was an original private pressing on the Dogtown label (Byard Lancaster; Sounds of Liberation) and sold for a whopping $1,705. The vinyl was listed in NM/VG++ condition and the economical, paste-on cover in VG+ condition with light wear. I've seen this record sell for a hefty price before but this took the cake. It's a reverb-heavy, somewhat psychedelic-sounding record in the vein of Sun Ra's post-1962 recordings, rather free but also groovy in spots, and easy to understand why people are after it.
Speaking of Sun Ra, the same seller got decent prices for a pair of rather well-used Saturns, Jazz in Silhouette and Super-Sonic Jazz. In VG++ or better condition these would probably have broken into the $1,000 bin with ease. However, it's hard to sneeze at copies in "G" condition getting $461 and $385, respectively.
A little more in the realm of normalcy – or at least not super-sonic pricing – is this copy of Jeanne Lee's Conspiracy, an all-star date of sorts in the loft-jazz realm, but rendered with captivating and unique lyricism. There were two pressings of this album, one released on Mait Edey's Seeds label and the other on Lee's own Earthforms imprint (I think the Earthforms is second). Graded at NM or M- for both the record and cover, this sharp example went for $316.
I'm not sure how many records are floating around with Albert Ayler's signature and I can't think that I've seen more than a couple in years of collecting, so this first commercial edition of Spiritual Unity on ESP is quite attractive in the sense of being a significant album with a significant autograph. However the condition leaves a little to be desired as both the record and cover are listed as VG (and the cover seems pretty worn). I can't verify whether the personalized penmanship is Mr. Ayler's but it seems a forgery would be unlikely, especially since it's in pen and worn off about as much as the silkscreen printing. The seller had it as a Buy-It-Now for $1400 and there were no takers; maybe at $1300 someone will bite?
As always, happy bidding and happier listening!