Of Autographs, Promo Copies and More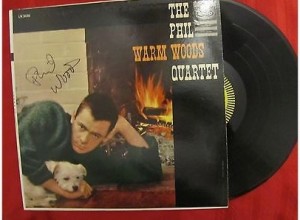 So this is what we'll be watching on eBay this weekend as we brave the chills of the lovely Berkshire Mountains of Western Massachusetts, starting with Phil Woods, Warm Woods, Epic 3436. This is an original pressing with the yellow label. The record and the cover are both listed in VG+ condition and the front cover has a nice clear autograph by Phil, apparently signed in 2000 at the Blue Note in New York City. Not a bad idea to get an autograph on one of these vintage records, if you like that sort of thing, as I recently did with my Herbie Hancock Blue Notes. This one is in the $80 range with one day to go and there is only one bidder so far. We've seen this record sell for more than $400 without an autograph (but in M- condition) in the Jazz Collector Price Guide, so we're curious to see what this goes for. For some collectors the autograph on the cover is a turn-off, which has always baffled me.
This one may be closed by the time many of you read this:
Lucky Thompson, Accent on Tenor, Urania 1206. This is an original pressing with the yellow label and deep grooves. It looks to be in VG++ condition for both the record and the cover. The price is about $120. We don't often see the Urania records getting collectible prices, but this one already qualifies for a place in the Jazz Collector Price Guide.
This is another one we don't often see getting very high prices: John Coltrane, Coltrane, Impulse 21. This is a white label promo copy that is listed in VG++ condition for the record and VG+ for the cover. The picture shows some ring wear and writing on the back, so I'd be a little concerned about that, although the seller is Euclid Records, which is usually pretty reliable. Still . . . Anyway, this one is already more than $200 and there are five days left in the auction. Does the promo copy really make that much of a difference in value? Usually with jazz records it is not that big a deal.