A Conclave of Coltrane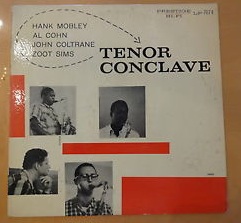 Just cleaning out the last of my eBay watch list before moving on to new items.
John Coltrane, Tenor Conclave, Prestige 7074. Notice how I listed this as a John Coltrane record. It is actually one of those Prestige jam sessions featuring Coltrane along with Hank Mobley, Al Cohn and Zoot Sims. So Why do I think of it as a Coltrane record? Because that's where I place it within my collection, under the Coltranes. Where else would you put it? Mobley aficionados aside, Coltrane is the one transformational musician in that group, aside from being, by far, my favorite tenor play among the four of them. So, to me, it's always been a Coltrane record, and one I am quite happy to own.  This one was in M- condition for the record and probably VG+ or VG++ for the cover. It sold for $350. A bargain for someone, IMHO. This one falls into the same category: John Coltrane, Wheelin' and Dealin', Prestige 7131. This one features Coltrane along with Frank Wess and Paul Quinichette. For me, it's a Coltrane record. This one was in VG+ condition for the record and the cover and sold for $263. Wonder what prices they would be selling for if they were on Blue Note? Double that? Triple?
And now some Blue Notes:
Jutta Hipp, Jutta, Blue Note 5056. This is an original 10-inch pressing. The listing was a little weird. At one point the seller describes it as near mint for the record, at another it is described as VG+. The cover was VG+. The price was 449.
Pete La Roca, Basra, Blue Note 4205. This was an original New York USA pressing that looked to be in probably VG++ condition for the record and the cover. It sold for $353.88.