A Pair for the $2,000 Bin & A Pair of Surprises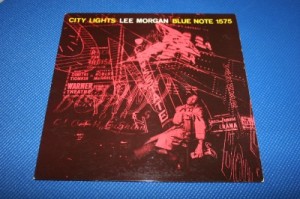 As we mentioned the other day, there has been an overflow of $1,000 records. Here are a few more, including a couple for the $2,000 bin:
Lee Morgan, City Lights, Blue Note 1575. This one was pointed out earlier by one of our readers.  It was in M- condition by a credible seller and it was an original pressing. It sold for $2,655.
Barney Wilen, Tilt, Swing Vogue LDM 30.058. This was an original French pressing. The record ws what we would call VG++ and the cover was M-. This one sold for $2,250.  This one is not new to the $2,000 club: It has previously sold for $2,700 in the Jazz Collector Price Guide.
Sonny Criss, Jazz-USA, Imperial 9006. This was a surprise to see in this category, simply because
we've never seen it approaching the $1,000 mark before. In fact, we've never recorded it selling for more than $300. This one looked to be in VG+ condition, perhaps a bit better, but not M-. It sold for $1,125. I have a copy of this one at home. Perhaps I'll be looking to put it on eBay, but somehow I don't see it selling for that price again too soon.
Finally, there is this one, $1 short of the $1,000 bin, so we'll make it an honorary member: Bill Evans, Explorations, Riverside 351. This was an original pressing and it was in M- condition for both the record and the cover. This one was $999. It's clear that some of these records in M- condition are setting new highs. Previously, our high for this was also less than $300. I think I'm going to rush home and start listing my M- records on eBay, so keep an eye out. Seriously.