A Dash of Pepper, Mad Thad, Jackie's Bag & More
It isn't often I see records or even labels I'm not familiar with, but here's one that was on eBay this weekend. It was listed as an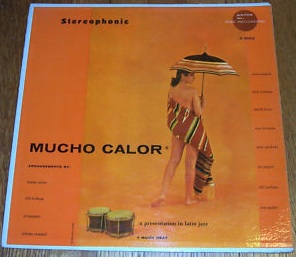 Art Pepper record: Mucho Calor, Andex S3002. Not only have I never seen the record before, I've never seen the Andex label. I have a strong feeling this is some kind of reissue or compilation, but not sure what the root label is. It's a stereo pressing, but it's supposed to be 1957, which is pre-stereo. Plus, with the other artists listed, it doesn't look like an Art Pepper record nor does it look like a record date that was led by Pepper. This one was probably VG++ for the record and VG+ for the cover and it sold for $87.66. I'm sure someone out in the Jazz Collector audience will be able to shed a little light on this one.
This one fetched quite a nice price: Thad Jones, Mad Thad, Period 1208. Admittedly, this is a hard to find record, but I haven't seen it often go for this price. The record was in VG++ condition and the cover was VG. The price was $610 and there were 27 bids, which is a pretty high number.
This one would typically get a higher price, but the listing wasn't very complete, so purchasing the record was a gamble:
Jackie McLean, Jackie's Bag, Blue Note 4051. The seller used the word "original" in the listing, but there was no mention of a deep groove or an ear or a Van Gelder stamp/signature. So who knows if it was original. Also, instead of VG+ or VG, he described the vinyl as being in "decent" condition, which is not a ringing endorsement. This one sold for $165.40. What do you think?
This a great record that sold for a pretty hefty price: Oliver Nelson, The Blues and the Abstract Truth, Impulse 5. This one had the original cover, which is hard to find, and it was in M- condition for the vinyl and VG+ for the cover. It sold for $317.34.