A Delightful Trio of Jazz Vinyl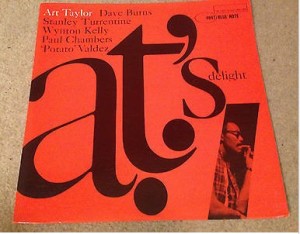 Here are some other jazz vinyl auctions we've been watching on eBay, starting with Art Taylor, AT's Delight, Blue Note 4047. This is an original West 63rd pressing with the deep grooves, Van Gelder, ear, etc. It is listed in VG++ condition for the record and VG++ for the cover. The bidding is in the $530 range and the auction closes later today.
Dexter Gordon, Doin' Allright, Blue Note 4077. This was an original New York pressing. The seller listed it in VG+/VG++ condition for the record and the cover. In the description, he mentioned tape on the cover. To me this immediately marks the condition down to VG+, not VG++. So I would also question the condition of the vinyl, but that's just me. This one sold for $222.50, which is what I would expect for a VG+ pressing of this record, so I guess others may have had the same sense on the grading.
Here's one featuring a Johnny Hodges autograph:
Johnny Hodges, Collates #2, Clef 128. This was an original 10-inch pressing with the autograph on the back cover. You can see if clearly if you zoom in on it. The record and cover are both listed in Ex condition, which sounds like VG+ based on the seller's description. Bidding is in the $90 range with a few hours left. Sometimes the autograph diminishes the value of the record in the eyes of some collectors, which I will never understand. In this case, it seems to be enhancing the value.