A Jazz Potpourri for the New Year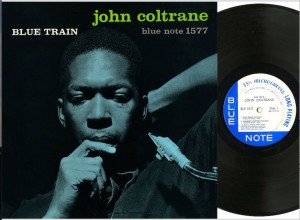 Here's a jazz potpourri to start the new year. This one came in from CeeDee under the subject "another for the $1k club" and it was John Coltrane, Blue Train, Blue Note 1577. This was an early (second?) pressing with the West 63rd Street able, deep grooves, RVG, ear, etc. An original original would have the New York 23 label on one side, which would make it a potential $2,000 record. This one was in M- condition for both the record and the cover and it sold for $1,000.01. It's not a first pressing but, in that condition and given the state of the Blue Note market, the inclusion into the $1,000 club is, for me, not a big surprise. CeeDee also sent me this one, which is a surprise: Earl "Fatha" Hines, Here Comes, Contact CM-6. This was an original pressing with the gatefold cover. It was part of the Dr. Herb Wong collection being sold by Funkyousounds. The record was listed in VG++ condition for the vinyl and VG+ for the cover. It sold for $192.50. I really can't recall any Fatha Hines records attracting collectible prices, or even collector interest, so this is a surprise. It does have Richard Davis and Elvin Jones and a pretty cool cover, so perhaps that drove the interest. Any other thoughts?
One more from CeeDee: Bud Powell, The Scene Changes, Blue Note 4009. This was an original West 63rd Street pressing. The record was in M- condition and the cover was VG++. The final price was $809.99. Again, given the market condition these days, not a big surprise to me.
I found this article on Discogs pretty interesting. It's been about five years since I've sold records online and I rarely buy online either. My exposure to Discogs has been limited thus far. Looks like I'll have to spend more time exploring the site. I am curious about the experiences of some of the Jazz Collector readers. Have any of you used Discogs and do you prefer it to eBay?