A Jazz Vinyl Post-Xmas Post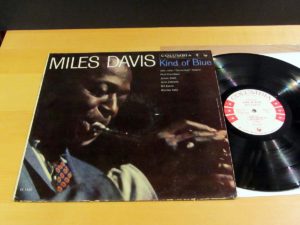 Merry day after Christmas everyone. It is good to be back. Let's catch up on a few jazz records we were watching on eBay, starting with an old standby: Miles Davis, Kind of Blue, Columbia 1355. This an original white label promo copy. The record looked to be in VG++ condition and the cover was VG+. The final price was $496, which isn't bad for a promo copy. We've seen them sell for more than $1,000 fairly consistently in nice shape, and one even broke the $2,000 barrier, according to Popsike. To me, this is a record where the condition of the cover would be important, since the black cover tends to fade and, for a promo copy, a nice, sharp, minty cover would be nice. Perhaps other potential bidders felt the same way, which kept the bidding at a reasonable level? I have a couple of original pressings of Kind of Blue, both in nice shape, but I've never owned a promo copy. Still don't.
Hank Mobley and Lee Morgan, Peckin' Time, Blue Note 1574. This looked to be an original pressing. Condition was hard to judge based on the description, but I would put it at no better than VG. It's the same seller as Hank Mobley, Blue Note 1568, from a couple of weeks ago and he acknowledges he doesn't have a lot of experience as a seller. Also, I didn't mean to insult him on the previous post, so I apologize if my comments were taken that way. This one sold for $788, a pretty steep price, IMHO, considering the condition, but many of these Blue Notes fetch a pretty steep price in any condition and all I've seen in the years I've been doing Jazz Collector is the price get steeper and steeper. If I would have bought all Blue Notes back in 2001 or 2002 when I first started on eBay, I could possibly retire today. Last time I looked the Mobley 1568 hadn't sold, with a start price of $4,500. But I haven't been on eBay regularly, so perhaps someone out there has more recent information?
Roland Kirk, Third Dimension, Bethlehem 6064. This was an original red label pressing that was probably in VG+ condition for the record and VG for the cover. The start price was $400, which was a little steep for this record and it didn't sell. This is one of the few Kirk records I don't own, but the condition and the price were not in my ballpark.
This one closes in about an hour: Lou Donaldson, New Faces, New Sounds, Blue Note 5021. This is an original Lexington Avenue 10-inch pressing. The record is listed in M- condition and the cover is VG++. You don't often find these 10-inch Blue Notes in such nice condition. The bidding on this one is in the $300 range. It will sell for more.