A Lexington Avenue Trio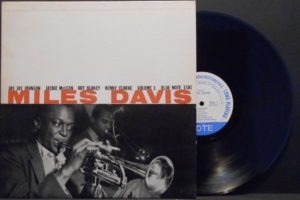 I was watching some early Blue Notes on eBay, including the very first 12-inch LP in the 1500 series: Miles Davis, Volume 1, Blue Note 1501. This was an original Lexington Avenue pressing with the deep grooves, flat edge, frame cover and all of the other indicators of a first pressing. The record and cover were both in M- condition. Quite a gem, it seems. The final price was $622.89. I haven't updated the Jazz Collector Price Guide in quite a while, but I do remember seeing a copy of this record sell for more than $1,000 at one time, but that seemed to be the exception rather than the rule. Popsike shows two copies selling for more than $1,000. I would assume that most collectors would treasure these albums, but for some reason there's something that feels "less original" about the albums whose content was original released on 78 or 1-inch LP. They also don't sound as well as the later 12-inch records produced for the vinyl format, do they?
Here's an example of an early Blue Note recorded for the 12-inch LP format: Art Blakey, The Jazz Messengers at the Cafe Bohemia, Volume 2, Blue Note 1508. This was also an original Lexington Avenue pressing from the same seller. It was also listed in M- condition for both the record and the cover. The final price was $584.90.
Here's a Blue Note from a bit later, but still in the Lexington Avenue era: Hank Mobley with Donald Byrd and Lee Morgan, Blue Note 1540. This was an original pressing. The cover was rated "good" and the record was graded M-. My guess is that the cover was actually better than good — probably VG+. It seemed that the seller used the word "good" as a descriptor. In my parlance when something is rated "good" it's actually closer to "poor" than than VG+ or even VG. Good really isn't so good, if you get my drift.