A Lovely Jazz Vinyl Trio for Christmas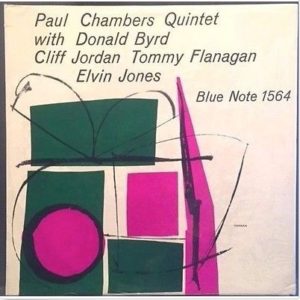 Just catching up with my eBay watch list after a lovely Christmas weekend here in the lovely Berkshires Mountains of Western Massachusetts, where I am looking out of my window at a frozen lake and a gorgeous winter scene straight out of Normal Rockwell. And, of course, there are also records to be perused and evaluated on eBay. Today we will start with The Paul Chambers Quintet, Blue Note 1564. This was kind of a weird pressing. It had the West 63rd Street address, the deep grooves and the Van Gelder stamp, but it did not have the ears. It seems like an early pressing to me, especially since this was not a record I ever saw issued once Liberty took over. It also had shrink wrap and a later "27 years of Blue Note" inner sleeve, which would place the issue at around 1966. In any case, this was listed in Ex condition for both the record and the cover. There was a start price of about $300 and there were no bidders, which surprised me.
As we mentioned, the seller manusardi1 had some very nice items on eBay this week, including Kenny Dorham 'Round About Midnight at the Cafe Bohemia, Blue Note 1524. This was an original Lexington Avenue pressing listed in "pristine" condition for the record and Ex for the cover. The final price was $1,780. How often are you going to find a copy of this record in pristine condition?
This was one of the ones from the bobdjukic listings: Hank Mobley, Jazz Message #2, Savoy 12092. This looked to be an original pressing with the red label and deep grooves. The record was labeled in Excellent condition, which the seller describes as between VG++ and M-. Whatever. The cover looks to be VG+ based on the description, although the seller grades it VG++. Of course the record was listed as "mega rare." It sold for $612.