A Matter of Prestige?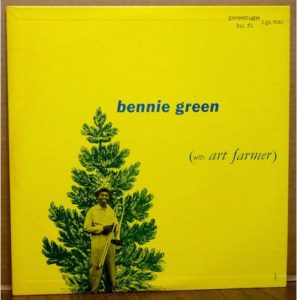 Are we finally starting to see the Prestige records follow the same path as the Blue Notes? I've been quite surprised at the price of several Prestiges recently, including the Sonny Stitt record I mentioned last week and this one that sold yesterday on eBay: Bennie Green With Art Farmer, Prestige 7041. This was an original New York yellow label pressing. The record was listed in M- condition and the cover was excellent. Great pictures from the seller are always helpful in achieving high prices. Still, I wouldn't have pegged this record to sell for $860, which was the final price. Careful readers may recall that I purchased an original copy of this record for 25 cents. It was sitting in the bargain bin at Mr. Cheapo's record store in Mineola on Long Island. I typically never looked in the 25-cent bin because it was always junk. But this day I was looking to kill time and not go back to work and, voila, there was Bennie Green With Art Farmer. Now the condition was just VG for the record and VG for the cover. But it was literally a quarter, the same as the parking meter outside the store. Still have it. The record, not the quarter. 
Here's another Prestige that went for a high price, although this one may be skewed because the real collectible value is probably more in the Andy Warhol cover than in the actual contents of the music or the musicians: The Story of Moondog, Prestige 7099. This was an original New York pressing in M- condition for the record and VG++ for the cover. It sold for $698.01. I sold my copy on eBay a few years ago. If I recall, it was about $300. There was a time where I thought I would be a Prestige completist, at least for the yellow labels, but I gave up that idea and when I listened to the Moondog record there was nothing on it that would ever convince me to listen to it again, so I decided to sell it, without regard to the label or even the cover art. I don't think I regret it. Certainly not like I regretted selling Lee Morgan Candy or Jackie's Pal 25 years ago to buy a frickin' boat that sank.
I also realized I never officially closed the books on that copy of Ike Quebec Soul Samba, Blue Note 4114, which I was watching last week. It sold for $860.
Yes.
It sold for $860.
In case you missed it, that was $860.