Sep 13, 2012 10-Inch LPs, Blue Note, Prestige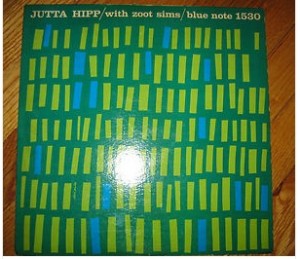 Here's a nice list of jazz vinyl now on eBay that would be a fine addition to any jazz collection:
Jutta Hipp with Zoot Sims, Blue Note 1530. This is an original Lexington Avenue deep groove pressing. The record is listed in near mint condition and the cover is VG. The bidding is in the $200 range, there are two days left and it has yet to reach the seller's reserve price. While we're on the subject: Jutta Hipp, New Sounds From Germany, Blue Note 5056. This is an original 10-inch record. The record is in VG+ condition and the cover is listed as M-. There are five days left on this one and the bidding is now in the $140 range. It will go quite higher.
Tommy Flanagan Overseas, Prestige 7134. This is an original New York yellow label in what is described as M- condition for both the record and the cover. The seller does mention "three tiny clicks, barely audible," which is honest of him to mention and perhaps doesn't diminish from the M- grade. Can you listen to almost any record without three tiny clicks somewhere? This one is now in the $335 range and has not yet met the seller's reserve price.
Here's a nice jazz vocal LP I wouldn't mind owning:
Beverly Kenney, Like Yesterday, Decca 8948. This one has the rainbow label, so I'm not sure if it is an original. Perhaps one of the experts among the Jazz Collector readers would know the answer. This one is listed in excellent condition for the record and probably VG++ for the cover, although the seller's descriptions are not quite clear. The bidding has reached $100, which means I would bet the record is probably an original pressing despite my lack of clear expertise on all things Decca.
Tags: Beverly Kenney, Decca Records, Jutta Hipp, Tommy Flanagan, Zoot Sims