A Pair of Blue Note Originals. Or Not?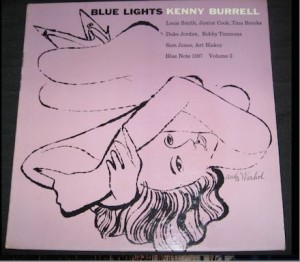 Here's an interesting item now on eBay: Kenny Burrell, Blue Lights Volume 2, Blue Note 1597.  The seller, who obviously knows his stuff, describes this as a "rare original US press." I guess that's true in the sense that the record was originally pressed in the United States, although that doesn't necessarily make it a first pressing. This one has the West 63rd Street address, but no deep grooves. There is also no mention of the Plastylite ears. I guess, what is original is in the eye of the beholder or, in this case, the bidder, of which there is one at about $200. In my vernacular I would not call this an original. From what I can see, the cover looks like it might be an original mono cover, although someone out there might know of some aspect that might change that view. In any case, potential bidders may be only interested in the cover anyway, since it is by Andy Warhol and it is presumably in much better shape than the vinyl, which is only in VG- condition.
I am tending to think this one is also not an original original:
Kenny Drew, Undercurrent, Blue Note 4059. This one has the West 63rd Street address, but on close examination of the photos with the listing, it doesn't appear to have any deep grooves, and an original pressing of this record would have the deep groove on one side, right? This one is in M- condition for both the cover and the record and is now in the $360 price range with more than two days left on the auction.