A Post About Ballads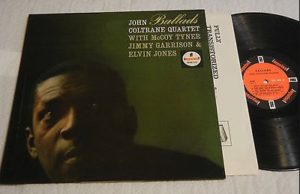 I go to sleep to music each night. I am still archaic enough to have an iPod and I have created about 50 playlists, all ballads and soft music, and I rotate among them and put them on random play. I find it quite soothing and relaxing and, apparently, so do my usual bedfellows, which would be The Lovely Mrs. JC and the two dogs Marty and Gordon. So last night I was listening and, at random, there came "Who Can I Turn To" by Dexter Gordon and then "Say It (Over and Over Again)" by John Coltrane, and I was listening very closely and both performances were quite lovely and brilliant in their own ways. And, of course, it got me to thinking about who are my favorite ballad players and what are my favorite ballad performances. And, of course, I couldn't fall asleep because I was mentally going through all of my records and trying to pick out my favorite artists and performances. In the end, before I eventually nodded off, I came up with some thoughts and decided to share them here with you this morning.
In the end, it turned out that Dexter and Coltrane are, indeed, my favorite artists when it comes to ballads, with Bird as the third artist in the mix. I'm limiting my list to horn players and purposely excluding vocalists, just because that's how I decided to do it. When I started thinking about performances by these artists, I was actually blown away by how many great ballad performances by Coltrane are at or near the top of my list. If you look at the different eras of Coltrane, it is amazing what he was able to accomplish and how he evolved his approach to playing ballads from his early days with Miles even into his years at Impulse, excluding the last couple of years when he abandoned a lot of the structure of the music.
Off the top of my head with Coltrane I came up with:
Impulse: The entire Ballads and Johnny Hartman albums; Alabama; After the Rain; In a Sentimental Mood with Duke Ellington.
Atlantic: Naima, Every Time We Say Goodbye
Prestige: I Want to Talk About You, Theme for Ernie, Lush Life, I See Your Face Before Me
For Dexter, the list was shorter, but also quite impressive. I was thinking of the Blue Note and Prestige sides, including Stairway to the Stars, Who Can I Turn to, The Christmas Song, You've Changed, Until the Real Thing Comes Along.
For Bird there are, of course, all of the sides he did with strings, but I've also always been blown away by the Dial sides, especially when they issued all of the various takes and you could hear the multiple versions of tracks such as Embraceable You and Bird of Paradise, each one with a different approach, each one more beautiful than the one before it.
Anyway, that's what I was thinking as a fell asleep last night, so I figured I'd write about it when it was fresh in my head.
A couple more points, while I'm at it:
One: This is not meant to be a definitive list of artists or performers. Put a ballad by Getz or Paul Desmond on the turntable and I'm in heaven; or Johnny Hodges, Ben Webster or Miles Davis (who would probably be next on my list if I decided to continue it), or many other artists The post is meant to be food for thought and, perhaps, the beginning of an interesting thread here on Jazz Collector.
Two: I didn't mention vocalists, but the preponderance of the artists on my playlists are singers, mostly jazz, but a few not. There's a lot of Ella and Sarah and Rosemary Clooney (Concord) and Sinatra. There's also a good deal of Brazilian music, plus some of my favorites outside of jazz, particularly Nancy LaMott, James Taylor and Allison Krauss. I'm very excited to be seeing James Taylor at Tanglewood this weekend, and very pleased that he finally was awarded a Kennedy Center Honor, which was long overdue.
Anyway, I'm curious to hear about other favorite ballad artists and performers from the Jazz Collector community.