A Prestige Pair, and a 10-Inch Blue Note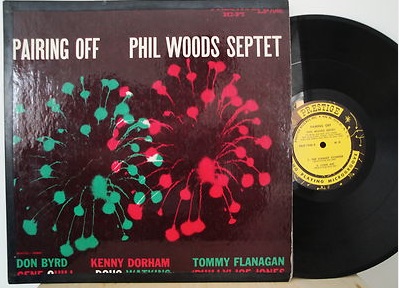 Here are a few items we're watching now on eBay, starting with a couple of Prestiges: Phil Woods, Pairing Off, Prestige 7046. This is an original New York pressing and is graded Ex- for the record and VG for the cover, which translates to approximately VG+ for  the record in the terms we use here, although the seller seems to use both VG+ and Ex in his grading system. Anyway, the start price is $150 and so far there are no bidders. We would expect this to sell, but you never know. I recently received the 10-inch Phil Woods Prestige that I got as a birthday present to myself and to my pleasant surprise, the condition was much nicer than what had been advertised. Music is very nice as well.
Roy Haynes with Booker Ervin, Cracklin', New Jazz 8286. This seems to be an original pressing, although it has one side that is a deep groove and one that isn't. What do you make of that? The record is in M- condition and the cover is VG+. The price is in the $140 range and I'm assuming it is an original unless I hear otherwise.
I almost bid on this one and now kind of regret that I didn't:
Jay Jay Johnson, Blue Note 5028. This was an original 10-inch pressing with a great cover and great music featuring Clifford Brown. It was in VG condition for the record and the cover and sold for the start price of $89.99. It would be nice to have that one on the shelf, even in VG condition.