A Promo, a 10-Inch LP, And a "Later" Blue Note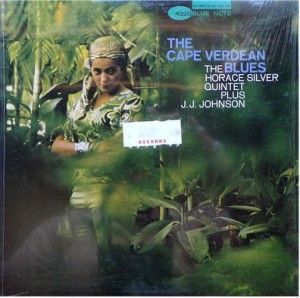 Here's some more jazz vinyl we're watching on eBay now:
Horace Silver, The Cape Verdean Blues, Blue Note 4220. This is an original mono pressing with the Van Gelder and the ear and, of course, no deep grooves. The record is in M- condition and the cover is M- as well, with the original shrink wrap. There's more than a day left in the auction and the bidding is in the $150 range. Nice record. As we're seeing with the Bobby Hutcherson records mentioned yesterday, as well as others we've been watching, the later pre-Liberty Blue Notes seem to be going up in value by quite a bit recently. It's interesting to think of "later" Blue Notes as records that are pretty close to 50 years from their original release.
Here's an early Blue Note from a familiar and highly reputable seller: Kenny Drew Trio, Blue Note 5023. This is an original 10-nch pressing in M- condition for both the record and the cover. Quite a beauty. Perhaps only one owner? The start price is about $200 and, with two days to go, there are no bidders.
Here's a promo record that is on the verge of selling for a hefty price tag:
Bill Evans, Waltz for Debby, Riverside 399. This is a white label promo copy. The record looks to be in M- or VG++ condition and, based on the pictures, the cover is probably VG+. With more than two and a half days to go on the auction, the bidding is already  more than $620.