A Rare JAzz Vinyl Quartet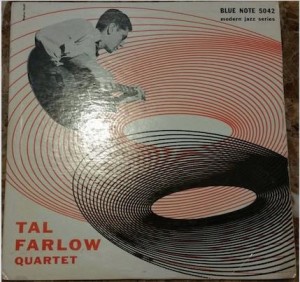 Here's a nice 10-inch Blue Note you don't see very often: Tal Farlow Quartet, Blue Note 5042. This is an original Lexington Avenue pressing. The seller describes the record as being in VG+ condition for both the record and the cover. The pictures of the record look horrendous. I assume that is just the flash, but as a seller, you've got to be more careful when posting pictures. This has a start price of $99 and there are no bidders. Not sure if that is a function of the start price being too high or the poor quality of the pictures. I'd like this record, but not sure I'd be willing to take the chance.
Here's another one that appeals to me: Elmo Hope, Meditations, Prestige 7010. This is one of the few early Prestiges I don't own. The record and cover are both in Ex condition, which translates to VG+ in my lingo. It's an original New York yellow label. There's shrink wrap and a price label, and I don't quite know what to make of that because they weren't using shrink wrap when the record first came out. Probably doesn't mean anything. There are 10 bids, but it's still only in the $100 range, which would be quite a bargain for this record. Of course, the price will go up, but by how much? We'll see tomorrow.
This one is from the same seller as the Elmo Hope and it is closing soon, so the auction will probably be over by the time many of you read this: Art Pepper, Surf Ride, Savoy 12089. This is an original pressing with the blood red label. From the description it sounds like the record and cover are also VG+. The bidding just went past the $400 mark.
To close out today's post let's look at another one to break my heart: Cliff Jordan, Cliff Craft, Blue Note 1582. This is an original West 63rd Street pressing and both the record and cover are described as near mint and, from the picture of the cover, you get the sense that is quite accurate. Bidding is in the $700 range with about a day and a half left. For some reason, I think we may be welcoming Cliff Craft into the $2,000 bin.