A Stamp, A Failed Bid, Some Cool Autographs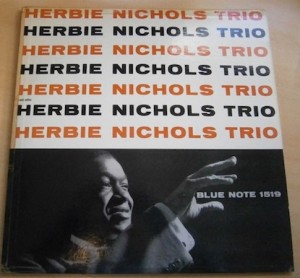 Here are a few more items we are/have been watching on eBay, starting with Herbie Nichols Trio, Blue Note 1519. This looks to be an original deep-groove Lexington Avenue pressing. The record is listed in M- condition and the cover is VG, with taped seams. The bidding is in the $240 range and there are four days left on the auction. I have a strange copy of this record. It has the Lexington Avenue address, the ear and the RVG in the deadwax, but no deep grooves. Not sure of the vintage — probably pre-Liberty, but not an original, I would guess. Another interesting thing about my copy: It has the stamp: "Property of Rudi Blesh." Rudi Blesh was a jazz critic and  historian. He even has his own Wikepedia page. Rudi Blesh or not, I'd still love to replace my pressing with an original, but not at that price and not with taped seams.
I actually did bid on a record this past week, which I don't do very often this days. It was the Phil Woods record I wrote about earlier in the week:
Phil Woods, Woodlore, Prestige 7018. There was about an hour left in the auction and the record was sitting at about $130. I know that The Lovely Mrs. JC has been trying to find a record to give me for my birthday next week, and I also know that her endeavors have so far proven to be unsuccessful. I thought perhaps I'd help us both out. The record was listed in VG condition for both the vinyl and the cover, which definitely made me wary. But I figured it was worth a shot if the seller had perhaps been conservative, especially since this is a record I have long wanted in my collection. (Well, I do have a Japanese pressing, but that's not the same as an original). Given the condition of the record, and the time left on the auction, I put in a snipe of about $210, figuring I'd have a good chance. It's more than I would want to pay for a record in this condition, but it was a gift and, ostensibly, I would not supposed to know the actual price. It wound up selling for $284. As some people here in the states say, "no harm, no foul."
I was curious to see what this piece of memorabilia would sell for: JATP Program Signed by Lester Young. This was part of an auction by the Jazz Record Center. I found it interesting that they chose to list it as a Lester Young autograph when, in fact, the Pres signature was only one of many other signatures on the program. Other signatures were Ella Fitzgerald, Oscar Peterson, Sonny Stitt, Coleman Hawkins, Roy Eldridge and Percy Heath. Not a bad lineup, just need a drummer. I would guess that the Lester Young Signature is pretty rare, given when he died and some of his personal issues. This sold for $555.50. If you follow the Jazz Record Center link above, you can see the other items they sold on this auction.