A Stroll Down Miles Davis Way (And More)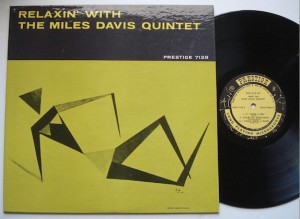 I think my work workload is slowing down so, not making major promises, but I think I'll be back to posting more regularly. At least I certainly hope so. In the meantime, it's nice to see everyone commenting and keeping the action alive. I was able to swing over to eBay and add some items to my watch list. This is a great record, and one that has certainly gone up in value in the past few years: Miles Davis, Relaxin', Prestige 7129. This is an original pressing in M- condition for the record and the cover. The seller was able to get some great pictures, which aways helps. The bidding is now in the $440 range and the auction closes later today. I had Miles on my mind because I was just taking a walk in my neighborhood and passed a street called "Miles Davis Way." Yes, I live near Miles Davis Way. Nice, huh? 🙂 It is a single block — 77th Street between West End Avenue and Riverside Drive on the Upper West Side of Manhattan. Miles had an apartment there at 312 West 77th Street. Apparently there was something of a battle to get the street named after Miles, who lived there for about 25 years and enjoyed hanging out on the stoop and chatting with neighbors. Miles? Man, I would have loved to have seen that. Next time I pass the sign, I'll take a picture and post it here.
I see this wacky one is getting considerable attention on the previous post: Hank Mobley, Blue Note 1568. If you look carefully at the pictures it is clearly a reissue. I will say, however, that the picture of Side One looks like it could possibly have a deep groove. I wonder if the seller would have actually done a little etching to make it appear that way. The picture of side two clearly shows no deep grooves and, of course, there is the cover. Nobody has successfully answered why this record has now been bid up to $760, but clearly the bidders, of  which there have been six, either need new glasses or they are mistaking the auction for one from our new friend and commenter bobdjukic.
This likes like a real Mobley: Hank Mobley Sextet, Blue Note 1560. This is an original pressing with the West 63rd Street address and real deep grooves. The start price is around $500 and so far there are no bids. I would suggest the lack of interest so far stems from a disconnect between the seller's description and the pictures with the listing. The seller describes the record condition as Ex and the cover as VG++. But the cover is not VG++, at least not according to any grading schema I would use. What do you think? Even with the cover condition discrepancy, I expect this record to sell for more than $500. Heck, for that price, I may have considered a bid myself, if I didn't have an absolutely clean copy from my Baltimore score.