A Tale of Four Blue Notes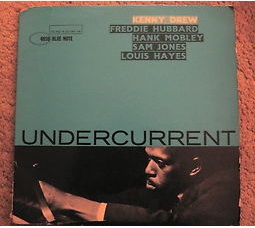 Here's some more jazz vinyl we're watching on eBay, starting with Kenny Drew, Undercurrent, Blue Note 4059. This looks to be an original pressing with the West 63rd address and the single side deep groove. The record is only in VG or VG+ condition and the cover is VG. Bidding is only in the  $50 range now but there are five days left in the auction and I would expect this to sell for several hundred dollars despite the condition. We'll see.
Hank Mobley, Roll Call, Blue Note 4058. This listing mentions almost everything about the record, except with it has deep grooves. Curious. If you look at the pictures it's not conclusive. If I were interested in this record, which I'm not, I'd certainly query about the deep grooves before bidding. The record looks to be in VG++ condition and the cover is probably VG++ as well, although the labels have some staining, which will be a turnoff to some bidders. Bidding right now is in the $170 range.
Stanley Turrentine, Up At Minton's Volume 1, Blue Note 4069. This has deep grooves and the ears, but one side is West 63rd and the other side is New York USA. So this would not be an original pressing, but it would probably be an early pressing? Anyway, it's in VG++ condition and the seller has a start price of about $250. So far there are no bids.
One more odd Blue Note, while we're at it: Horace Silver and the Jazz Messengers, Blue Note 1518. This is not an original, for sure. It has one side with the West 63rd address, the other side with the New York USA label, one side deep groove, one side not deep groove. Who knows when it was issued. This one is in M- condition for the record and the cover and the seller is asking for a minimum of about $170. So far he hasn't gotten it.