Nov 9, 2011 $1000 Records, Blue Note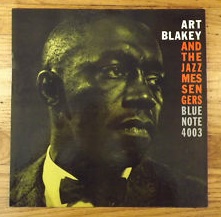 I did not get the Milt Jackson Blue Note 1509. When I wrote the post yesterday there was only one bidder at $200, so I figured it may not go for that much. I put in a snipe bid of about $280, but right after I wrote the post there were two new bids and the price went up to $235 quickly. I left the snipe where it was and the record wound up selling for $306. I could have bid higher and perhaps gotten the record. It's a nice one, in M- condition, and it would have fit quite snugly in my collection. C'est la ebay.
As someone else pointed out, the Art Blakey and the Jazz Messengers, Blue Note 4003, sold for $1,125, making it the first time this record has entered the $1,000 bin in the Jazz Collector Price Guide. The record and the cover were in M- condition. We think of this as one of the more common of the Blue Notes because it was quite popular and successful and re-issued but, clearly, original pressings in this kind of condition are still quite hard to come by or else this would have never fetched such a high price.
Tags: Art Blakey, Milt Jackson