A Tale of Two Covers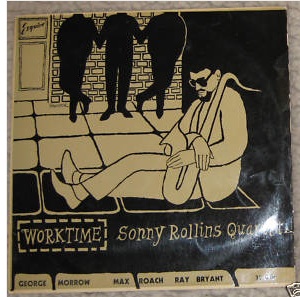 I've never been one to collect European pressings of original American LPs but I have to admit my heart fluttered a bit when I was browsing eBay this morning and came upon this: Sonny Rollins, Worktime, Esquire 32-308. Now this is an awesome cover. The drawing is reminiscent of David Stone Martin. I, frankly, hadn't seen this cover before so I'm hoping someone out there has more knowledge about it and can share it. I just think it's a terrific cover all the way around, and clearly some bidders on eBay agree with me: The record and cover are in about VG condition and the price is already more than $300 with 10 bids. It will be interesting to see what this goes for, and to learn more about it as well. I did a quick Google search and didn't find anything, but I'll take a longer look later if no one in the audience has the info.
Another record with a very interesting cover closing today is:
Toshiko Akiyoshi, Her Trio and Her Quartet, Storyville 918. This is an original 1956 pressing that is listed in VG++ condition for both the vinyl and the cover. The current price is $100 and there are two bidders, so this might be gettable for a decent price. It features Oscar Pettiford and Roy Haynes. I'm not an expert on art, but the cover design looks like Joan Miro to me. I will look it up later, or perhaps by the time I get back someone will provide the answer.