A Trifecta of Rare Jazz Vinyl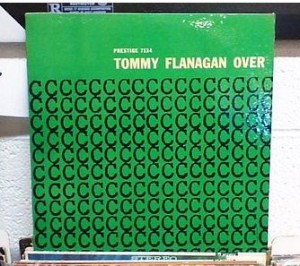 Back on eBay after an extended absence, for which I apologize once again. Took a quick check of some listings and found this: Tommy Flanagan Overseas, Prestige 7134. This looks to be an original New York pressing in M- condition for both the record and the cover. The bidding ends tomorrow and it is already more than $1,000, perhaps on its way to the $2,000 bin. Interesting thought about this record: Did Prestige ever issue this on the yellow New Jersey label? I don't recall ever seeing one or hearing about one. I guess it's possible they just issued it once in the original format, which is what makes it so rare and so treasured by collectors.
Our friend Serge in Canada has several nice records on eBay now, including Jutta Hipp at the Hickory House, Blue Note 1515. This looks to be an original Lexington Avenue pressing in VG++ to M- condition for the record and VG+ for the cover. The bidding is in the $450 range, but it hasn't yet reached the seller's reserve price.
My goodness, look what happened to this one:
Hank Mobley and Lee Morgan, Peckin' Time, Blue Note 1574. Last time I looked this was sitting at $700 and I said I'd be surprised if it didn't sell for more than $1,000. Well it certainly did that. The final bid was $2,652.99. The same seller as the Tommy Flanagan Overseas record, so he's having a pretty good month here. Strange to look at his site and see all these t-shirts with, oh yes, an occasional $1,000 record thrown in there.