A Trio of Rare Jazz Records To Start The Week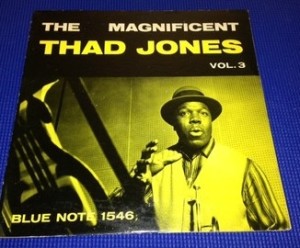 Here's some rare jazz vinyl we are/have been watching on eBay:
The Magnificent Thad Jones Volume 3, Blue Note 1546. This was an original New York 23 pressing in M- condition for the vinyl and VG+ for the cover. It sold for $1,136. This is the first time we've ever recorded this record in the $1,000 bin in the Jazz Collector Price Guide, although, admittedly, we don't update the guide as often as we used to.
Chet Baker, Quartet and Sextet, Music LPM 2094. This is an original Italian pressing, very rare, very nice music. The record and the cover are both in M- condition. The bidding is now in the $200 range with three days to go, but the price hasn't yet hit the seller's reserve.
Hank Mobley Quintet, Blue Note 1550. This is a West 63rd deep groove pressing without the New York 23. The record is in probably VG+ or maybe VG++ condition, while the cover is VG. The price is in the $250 range with three days to go.