All I Want for Christmas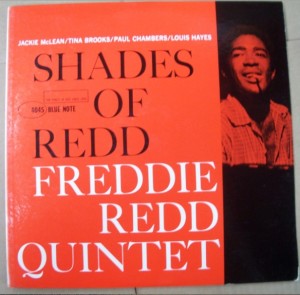 Actually, I don't even celebrate Christmas, but that's quite beside the point, isn't it? I spent a couple of hours today just looking at my records and going through the shelves, one by one. It's a pretty damn good collection, I must say. Although it is not complete. Not even close. So, when I do look at the collection, what's missing. Or, more to the point, if I were to make a Christmas Wish List, what would I put on it? Here we go, all original pressings, of course.
1. Freddie Redd, Shades of Redd, Blue Note 4045. Yes, I've been searching for this record for years, and yes, I could just pay the price and buy a copy on eBay. But that takes out all of the fun. Now, if The Lovely Mrs. JC would be interested in a gift for my upcoming birthday, I wouldn't complain about that at all, no matter what the price.
2. Lou Donaldson, Quartet, Quintet, Sextet, Blue Note 1537. No the list will not be all Blue Notes, but it could be if I wanted to go there. This happens to be another favorite. I've owned a Japanese pressing for years. Two, in fact. But an original on my shelf would be quite appealing.
3. Hank Mobley, Blue Note 1568. No I don't have it. If I did, whenever someone would ask me what's the most valuable record in your collection, I could point to that. Right now, when someone asks, I don't know exactly what to say. The music is pretty good too, no?
4. Charlie Parker, any of the 10-inch Dials. How, I ask you, is it possible that after all of these years, I don't own a single copy of any of the Bird 10-inch Dial records? Not one? The closest I came was a few years ago at the Princeton Record Exchange. They had all of them in pretty mediocre condition for about $300 each. It was the first time I'd ever held them in my hands and it was pretty tempting, but just not worth it to me.
5. Hank Mobley, Mobley's Message, Prestige 7061. One of the few early Prestige records that I don't own.
6. Art Taylor, Taylor's Tenors, New Jazz 8219. See #5 above.
7. Jackie McLean, The New Tradition, Ad Lib 6601. Do you believe I once owned a copy of this and sold it? Do you believe it?
8. Lee Morgan, Candy, Blue Note 1590. See #7 above.
9 Kenny Dorham, Quiet Kenny, New Jazz 8225. See #s 5,6,7 and 8 above.
10. Charlie Parker, Bird Blows the Blues, Dial LP1. It's the first 12-inch jazz LP ever. And it's not like the music isn't brilliant. And I don't own it. For shame.
Notice that there are no Coltrane, Miles, Clifford Brown, Sonny Rollins or Bill Evans LPs on the list. That's a good thing. At least it is for me.
Merry Christmas and Happy Holidays to all.