An Afternoon Soul Stirrin' in Paris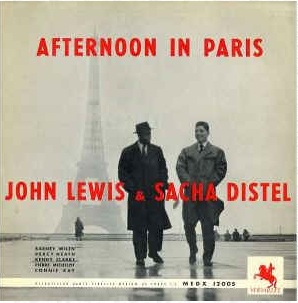 Let's catch up on some interesting jazz vinyl auctions we've been watching on eBay.
For as long as I've been collecting, it's nice to know that there's always something new to learn. Here's a record I've like for a long time: John Lewis and Sacha Distel, Afternoon in Paris. I've only owned this as an Atlantic recording, black label, of course, and I frankly had no idea that it was originally issued in France under the Versailles label, Versailles, MDX 12 005. I just checked out the liner notes on my Atlantic pressing and it makes no mention of Versailles. It does mention that Barney Wilen was only 19 years old at the time of the recording, which is pretty incredible considering how well he plays on this record and how mature he sounds. Anyway, this copy was in VG++ condition for the record and M- for the cover, which was the soft cover that seemed to be typical of the European pressings in those days. This copy sold for $630. The highest price we've recorded for the Atlantic pressing in the Jazz Collector Price Guide has been $121.
This is by far the highest price we've seen for this record: Bennie Green, Soul Stirrin', Blue Note 1599. This was listed in M- condition for both the record and seemed to attract a bidding war among three or four potential buyers. The winning bid was $825.67. I'm sure the presence of Sonny Clark helps to inflate the price. I always liked that they used "Jug" as a pseudonym to hide one of the tenor players, obviously not worrying too much that anyone would be able to identify Gene Ammons, and not worrying too much about contractual obligations. It's as obvious, but not quite as creative, as the use of Buckshot La Funke to disguise Cannonball Adderley on one of the Louis Smith Blue Notes.