. . . And a Quartet for New Year's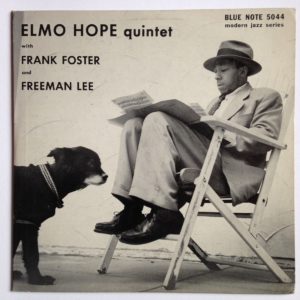 Happy New Year to all. Looks like our friend Rudolf had a pretty good start to the year selling some vintage and rare jazz vinyl, including Elmo Hope Quintet with Frank Foster and Freeman Lee, Blue Note 5044. This was an original 10-inch pressing that looked to be in beautiful pristine condition, perhaps unplayed after being placed in storage many years ago? Rudolf, I don't recall if you shared the story of how they ended up in storage, but I would love to hear it (again?). This one sold for $1,054.99. Do you think there are many left in the world in this condition? I also had a pristine copy, which I sold in 1990 for $400, which seemed like a lot at the time and, in fact, was a lot. But the $400 came and went and I've never found another affordable copy of this record in the 27 years since.
This one came from the same batch and I was quite surprised to see where the bidding ended up, since I've never viewed this one as particularly coveted by collectors:
The Jazz Messengers, Columbia 897. This was an original pressing with the red six-eye label. It was also listed in pristine condition, straight from storage. The final price was $255.  As they say, condition counts, right? Here's one more: Johnny Griffin and Eddie "Lockjaw" Davis, Tenor Scene, Prestige 7191. This was an original yellow label pressing with the New Jersey address. It was also in M- condition and sold for $172.50. I love the Griff and Lockjaw records, on Prestige, Riverside and Jazzland, but they typically don't sell for collector's prices. Then again, they are not typically in pristine condition.
Here's a personal favorite of mine that didn't sell and is back on eBay for those who may be interested: Eddie Costa, Guys and Dolls Like Vibes, Coral 57230. This was an original promotional pressing. It was listed in VG+ condition for the vinyl and VG for the cover, but based on the seller's experience and description, I would wager that the grading is very conservative. Anyway, this did not sell and is back with a start price of $122. Oh yes, it features some great Bill Evans in addition to Costa on vibes. A really nice record.