. . . And In Jazz Vinyl on eBay . . .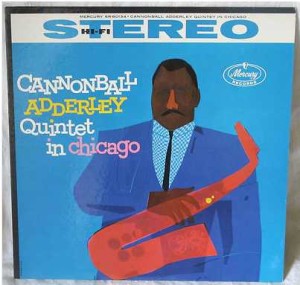 OK, I'm starting to feel guilty over my minuscule posting production over the past few weeks. I vow to do better and, again, I will post every day this week. Stay tuned. In the meantime, I will just catch up with some items I was watching last week and then move on to some new items.
This seller has had a bunch of items recently with high prices. Many of the prices seem to be unrealistic, despite the seller's nom d'eBay, but sometimes the items sell, such as: Cannonball Adderley Quintet in Chicago, Mercury 60134. This was a stereo pressing that looked to be a first stereo pressing with the deep grooves and black labels. It was listed in M- condition for both the record and the cover. This one has sold for collectible prices a few times in the past, but it has always been relatively common and available, even on eBay. So the inflated prices seem to be an aberration, such as this one that sold for $149.99.
Just as that price seemed to be inflated, this one seemed to be less than expected:
Fred Jackson, Hootin' N Tootin', Blue Note 4094. This looked to be an original mono pressing with the New York USA address and the Van Gelder and ears in the deadwax. The record was listed in VG+ condition and the cover was Ex. There was only one bidder and the record wound up selling for $139.99. Given what some of the New York USA Blue Notes have been selling for recently, I would have expected more interest, and more bidding, for this one.
Mal Waldron, Left Alone, Bethlehem 6045. This was an original pressing that was listed in M- condition for the vinyl and VG+ for the cover. The top bid was $865.55.
Sonny Rollins Volume 2, Blue Note 1558. This was an original New York 23 pressing that was listed in M- condition for the record and VG++ for the cover. It sold for $825.99.