And The Bidding Is . . . . WHAT?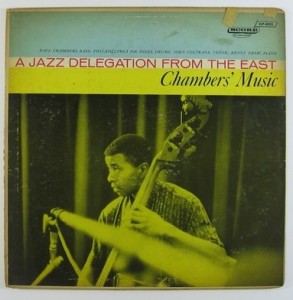 OK, I could use a good explanation for this one: Paul Chambers, A Jazz Delegation From the East, Score 4033. This is a reissue of the album originally released on Jazz West. The record is in G condition, described by the seller as "rough." The cover is in VG- condition, with tape and wear clearly visible in the picture. Not necessarily a record to display proudly on your shelves and, in this condition, probably not one to place on your turntable either. Someone wants it, pretty badly, though. There are 11 bids, three bidders and the price is already more than $100. Because . . ?
From the same seller is this: Kenny Drew, Undercurrent, Blue Note 4059. This is possibly an original pressing with the deep groove on one side, although the seller is only showing one label. Without seeing the other label, I have my doubts. Also, there seems to be an issue with the condition. The seller lists the record as VG and the cover as VG+. However, if you look at the picture of the back cover, it is clearly not close to VG+, with a really bad stain. If that is VG+, you kind of wonder what the VG vinyl looks like. I imagine others have similar concerns. The bidding is at $89 with 12 hours to go. If bidders were confident in the condition and the provenance, the bidding would likely be a lot higher.