And Yet Another Jazz Vinyl Update From eBay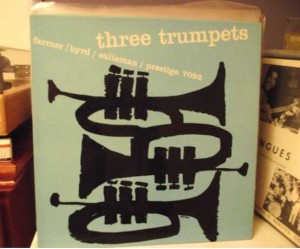 I am going to get through my Watch List and update the Jazz Collector Price Guide. I really am. I think. I will post a few more in a second, but first I want to point everyone's attention to the comment from the buyer of the Hank Mobley Blue Note 1568. Perhaps we will less ready to throw stones, those of us who who live in vinyl houses. It is also not often that we get comments from female readers, so welcome to Caroline.
Now, onto the Watch List and the Price Guide:
Art Farmer, Donald Byrd and Idrees Sulieman, Three Trumpets, Prestige 7092. This is an original New York pressing that looks to be in M- condition for the record and perhaps a drop less for the cover. It sold for $338.58. I happen to have a spare copy of this record sitting in my closet, if anyone is interested. I also have a spare copy of this one: Lou Donaldson, Swing and Soul, Blue Note 1566. This was an original pressing listed in VG condition for the record. The cover looked like it was probably VG+. The record sold for $127.50.
This one fetched quite a nice price, breaking into the $1,000 bin:
Donald Byrd Sextet, Transition 5. This was an original pressing. It did not have the original booklet, but the seller included a copy of the booklet he had obtained by fax. Okay. The record was probably VG+ and the cover was VG. The booklet was a fax. The price was $1.199.99 and there was only one bidder.
This one also fetched a nice price: Joe Henderson, Page One, Blue Note 4140. This was an original New York USA pressing with the ear and the Van Gelder. It was probably in VG++ condition for the record and close to VG++ for the cover. It sold for $546.