Apr 18, 2011 $1000 Records, Blue Note, Prestige, Price Guide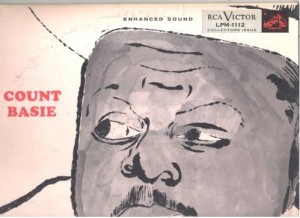 Other than the Andy Warhol covers, which seem to be going out of sight, I'm sensing some softness in the market these days. Not sure if it's because of what's going on in Japan or just the usual ebbs and flows of prices, often dependent upon who is on eBay and who is not on eBay. In any case, let's start with the Warhols. I've never seen this one at this price: Count Basie, RCA 1112. This is in VG++ to M- condition for the record, but only VG for the cover. Still, it is already close to $350 with several hours to go. This one looks quite familiar: Conte Candoli, Cool Gabriels, Groove 1003. Methinks this belongs, for now, to Rudolf, correct? If so, I think it will finally sell. There are five days left on the auction and it is already more than $1,000.
So why am I mentioning potential softness in the market? Here are a few examples, perhaps not a trend, but examples nonetheless. Jackie McLean, Swing, Swang, Swingin', Blue Note 4024. This is an original West 63rd deep groove pressing in M-/VG++ condition for the record and M- for the cover. Hard to find this record is such nice shape and it has sold for more than $1,000 previously in the Jazz Collector Price Guide. This one has a start bid of $300, it closes tomorrow, and there are no bidders. Hmmm. I can use an upgraded copy for my collection.  Or perhaps there are many snipers lurking in the weeds for this.
Here's another I'd expect to have more action: Sonny Rollins, Tenor Madness, Prestige 7047. This is an original New York pressing and, musically, does it really get any better than this, Sonny and Trane together? This one is VG+ for the record and VG for the cover and is in the range of $125 closing later today. Even this one, in not such great shape, would normally be getting more action: Jutta Hipp, At the Hickory House Volume 1, Blue Note 1515. This is an original Lexington Avenue, flat edge, deep groove, kakubushi cover. The record is VG and the cover is VG minus. It is still under $100 and closing tomorrow.
Tags: Andy Warhol, Conte Candoli, Count Basie, Jackie McLean, Jazz Vinyl, Jutta Hipp, Sonny Rollins