Another Stupid List: Favorite Blue Note Tracks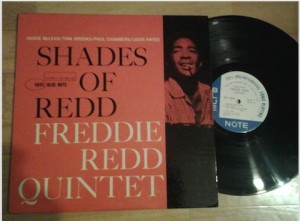 This will be fun. Last night I had another one of those very pleasant listening sessions up in The Berkshires, fueled by a few beers, a few vapes and the knowledge that I could play my music as loud and late as I pleased with no neighbors or anyone else to complain. I was watching politics on television as I do so often these days, taking particular delight in the latest polls showing that the blowhard, maniac, crazy man at the top of the Republic ticket is in steep decline and, IMHO, may not even make it to election day without having some kind of collapse/mental breakdown, if, indeed, we could even tell the difference between a nervous breakdown and the behavior he exhibits every single day on the campaign trail. After a couple of hours of this I had enough and decided to enjoy some music.
It was a weird progression for me, starting with the Beatles because last weekend I had the good fortune to see a great Beatles cover band called the Fab Faux, whom I would highly recommend. But eventually I found my way to jazz, per usual, starting with Les McCann and Eddie Harris on "Compared to What," then moving on to several Cannonball Adderley tracks and then "Giant Steps," which never ceases to awe and inspire. Giant Steps is a tough act to follow so I put on another track that always blows me away, "Thespian," the first song on side one of Shades of Redd, Blue Note 4045. Regular readers will know all too well that I have never owned an original pressing of Shades of Redd, but I do have two Japanese copies (one in each place of residence), both of which work quite well under any circumstances and particularly in circumstances abetted by the addition of controlled stimulants.
Anyway, I was thoroughly enjoying Thespian, the ensemble passages where they double the tempo, the great solos by Jackie McLean and Tina Brooks (what a loss) and the terrific team of Paul Chambers and Louis Hayes, both of whom were really young and incredibly talented at the time of this recording, when I got to thinking: "Is this actually my favorite Blue Note track?" And, of course, that thought led to this post, wherein I will attempt, pretty much off the top of my head, to list my 10 favorite Blue Note tracks. I will be honest and state  up front that I have a strong prejudice towards the swinging records that my dad played when I was growing up because they have been with me all of my life and have a special meaning because they always connect me to him in a positive way. So, I'm sure my list will turn out to be very pedestrian and perhaps somewhat predictable. But, then again, we all have our prejudices, don't we? Here are mine:
Thespian, Freddie Redd, Shades of Redd, Blue Note 4045
Sister Sadie, Horace Silver, Blowin' the Blues Away, Blue Note 4017
Moanin', Art Blakey and the Jazz Messengers, Blue Note 4003
Cristo Redentor, Donald Byrd, A New Perspective, Blue Note 4124
Song for My Father, Horace Silver, Song For My Father, Blue Note 4185
Moment's Notice, John Coltrane, Blue Train, Blue Note 1577
Backstage Sally, Art Blakey and the Jazz Messengers, Buhaina's Delight, Blue Note 4104
Autumn Leaves, Cannonball Adderley, Somethin' Else, Blue Note 1595
Blue Bossa, Joe Henderson, Page One, Blue Note 4140
Who Can I Turn To?, Dexter Gordon, Gettin' Around, Blue Note 4204
Don't shoot me for this. I know, no Mobley, Monk, Rollins, Donaldson, Hancock and many more. It's my list, so I have to live with it. You can create your own, which, of course, you are all invited to do.