Back in Business, Blue Note Style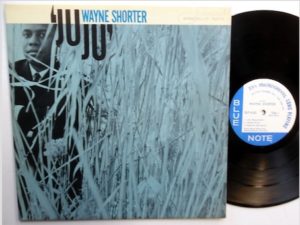 Whilst I have immensely enjoyed writing and sharing those personal essays, I know that most of you come to Jazz Collector for the really important stuff, which is keeping track of record prices and sales on eBay, so we can all marvel at how smart and fortunate we were to have bought our records below market value, or we can lament the unfortunate reality that buying the top rare jazz collectibles at today's market prices is beyond the capacity of many of us, either from a financial perspective or because it offends our basic sensibilities to pay top dollar rather than keep hunting for a bargain, even if it may mean never owning an original pressing of a record that we covet deeply. The point of that rather long sentence is that it is time to get back to business, and since so many of us have a soft spot for Blue Notes, I have decided that today will be a Blue Note day here at Jazz Collector, starting with Wayne Shorter, Ju Ju, Blue Note 4182. This looks to be an original pressing with the New York USA label, Van Gelder and ear. The record and cover are both listed in Ex condition. The price is now close to $400 with more than a day left on the auction. As we have all seen, the price of these later era original pre-Liberty Blue Notes has risen markedly over the past few years. If we haven't seen these break into the $1,000 bin yet, it looks like that is just a matter of time.
Speaking of later original Blue Notes, this is another from the same seller: Duke Pearson, Wahoo!, Blue Note 4191. This is also an original pressing with the New York USA, Van Gelder and ear. It is also listed in Ex condition, which I see that the seller clarifies as VG++. Thank you seller. This one has a start price of $175 and so far there are no bids with five days left. This is not a record I have ever considered to be very collectible, so I will be watching this auction to see where it ends up, if indeed it gets any bids at all. Prediction: It will.
Here's one from the era of the Blue Note catalogue that seems to have always attracted the interest and enthusiasm (and money) of collectors: The Magnificent Thad Jones Volume 3, Blue Note 1546. This looks to be an original pressing with the New York 23 label. The record and cover look to be in nice condition, possibly VG++ or even better, depending upon your sensibilities and grading curve. The bidding is in the $450 range with more than four days to go, so we will expect this to get close to the $1,000 bid when things are all said and done.
This one is closing later today: Kenny Burrell, Blue Note 1543. This is an original Lexington Avenue pressing. In fact, to my knowledge, this is the last of the Lexington Avenue Blue Notes in the catalogue. It also has a cover design by Andy Warhol, so normally it would be quite attractive to collectors. This one has a starting price of about $200, but there are no bidders, attributable to the condition of the record. The seller says the record looks VG "at best" although it plays well, which is not unusual for original Blue Notes of the era. The cover is also VG and there's writing on the label. I would take the record in this condition to add to my collection for the cover art and to fill in. Would I pay $200 for a fill-in? Perhaps I would, but probably not today. I have a feeling there will be several bids for this, so the $200 may not be enough anyway.