Bargain Day at Jazz Collector?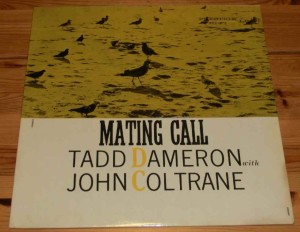 Let's update some of the records we were watching on eBay, starting with: Tadd Dameron and John Coltrane, Mating Call, Prestige 7070. This was an original New York yellow label pressing. The record was listed in M- condition and the cover was just a shade below, probably VG++. The record sold for $393. I listened to this recently and had forgotten just how good it is. It was released before Coltrane's first record as a leader on Prestige, but his playing is much more confident and assured than on the earlier Miles record or even the contemporaneous jam session records such as John Coltrane, Hank Mobley, Al Cohn, Zoot Sims, Tenor Conclave, Prestige 7074, which was sold by the same seller in the same lot. This one was in M- condition for both the record and the cover. It sold for $420.
That autographed Thelonious Monk record, At the Blackhawk, Riverside 323, wound up selling for $697. Based on the comments from the previous post (thank you again, Don-Lucky), this seems to be a legitimate autograph and it seems to be a good price for the buyer.
One more for today: Lou Donaldson, Wailing With Lou, Blue Note 1545. This was an original pressing with the New York 23 address. The record was M- and the cover was VG+. The price was $438. Given what original pressings of Blue Notes are selling for this days, this seemed pretty reasonable to me, given when the record was released and the fact that it's a darn nice record.