Blue Note Album Cover Art: The Winner Is . . . .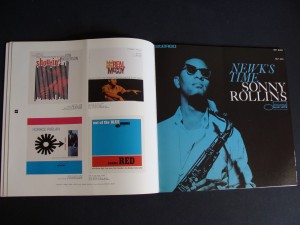 Okay, it's finally time to announce the winner of our most recent giveaway contest for the book: Blue Note The Album Cover Art. As previously mentioned, this is a 128-book of album cover art from the Blue Note catalogue, first published in 1991 by Chronicle Books. It features page after page of classic Blue Note covers from the 1950s and 1960s, featuring many of the great designs by Reid Miles and photos by Francis Wolff. The book also includes a foreward by Horace Silver. We announced a couple of weeks ago we would be giving away a free copy of this book to one lucky reader of Jazz Collector. The criteria for being eligible to win the book were simple: All you had to do was comment on a post on the site, any post. Since we announced the contest, there have been 12 different individuals who have commented on the site and are thus eligible to win the book. They are:
Behellodge, Michel, Rudolf, Jason, Dan Hodina, Dave S, Erich Schultz, Fred M. Donald Gajadhar, Hyder, Troy Grooms and Eric. And the winner is (drum roll, please): Troy Grooms. Troy, we hope you don't have a copy of this book already (if so, we could work out a substitute). Please send us a separate email with your mailing address and we'll send you a copy of the book, and we'll even pay the postage. Just sent the note to al@jazzcollector.com. We're hoping to get another contest started later today or tomorrow, so please, everyone, stay tuned. And remember, even if we don't do any more contests, we really appreciate it when you comment on the site. We are trying to build a community of jazz collectors here, and the more you all contribute, the more it feels like a community. Thanks.