Blue Note Vinyl, Continued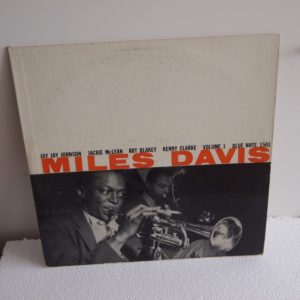 Just back from a brief holiday in San Francisco and lovely Creede, Colorado, where my son directed a play. I seem to be picking up exactly where I left off, with another note from Ceedee bemoaning, in a jocular way, the latest adventures in Blue Note prices. Let's start with Miles Davis, Volume One, Blue Note 1501. This was an original Lexington Avenue pressing listed in M- condition for the record and Ex for the cover. The final price was $1,125. No surprise there. I have to admit to you all that I recently passed on a lovely collection that contained a copy of this record in even better condition. The records in the collection were in beautiful condition but, unfortunately for me, there weren't enough records that I didn't already own to make it worth my while. I would have had to spend months on eBay to get back the return on my investment and I would have added some gems to the collection but, as you can probably surmise, I am just too busy with my regular work to devote my energies to selling records these days.
Plus, the woman selling the collection had already received a couple of offers from dealers that surprised me because they were really quite high, much higher than I would have expected considering the potential return, although, as I said, there were some real gems, including this Miles record and a gorgeous Saxophone Colossus. I'm sure we'll be seeing some of these records on eBay soon and, if I recognize them or the dealer, I'll point some of them out. Speaking of Sonny, this one was also in the note from CeeDee: Sonny Rollins at the Village Vanguard, Blue Note 1581. This was also an original pressing in M- condition for the record and Ex for the cover. The final price was $588.89, which, all things considered, seems fairly low to me. Finally, there was also Curtis Fuller Volume 3, Blue Note 1583. This was another original pressing listed in probably VG++ condition and VG+ or better for the cover. The final price was $771. Again, nothing out of the ordinary and, if anything, perhaps a bit low.