Blue Notes, 78s and Idiocy: Happy Friday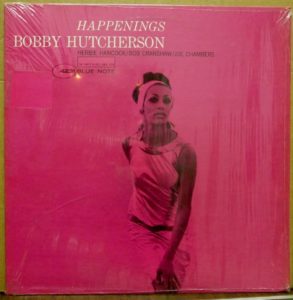 This record, like a lot of later Blue Note pressings, has increased quite a bit in value the past few years: Bobby Hutchinson, Happenings, Blue Note 4231. This was an original pressing with the New York USA label and it was in its original shrink wrap, which seems to have some appeal to collectors, although I'm not sure why. Perhaps because of the added protection for a record that is probably 50 years old? Anyway, this one was probably in M- condition for the record and maybe VG++ for the cover and sold for $299.99. Not one of my favorite Blue Note covers. I typically like the covers that feature the artists.
Here's a rare Blue Note that did not sell:
Lee Morgan, Candy, Blue Note 1590. This was an original West 63rd Street pressing. The record was listed in M- condition and the cover was listed as VG+/VG++, which I would take to mean a good VG+. There were nine bidders, 27 bids and a top bid of $1,325. But, alas, it did not meet the seller's reserve price.
Here's a lot of records I was seriously considering: Over 900 78-RPM Records. I've been spending a lot of time up in the country and I've just reorganized my records (again) and have good access to my 78s and a good Califone player. So I've been listening a lot to 78s, which is great. I've got one on in the background right now, Count Basie, Shorty George, with Lester Young. It doesn't get much better. Anyway, this listing caught my eye at $400 and it's about an hour and a half or two hour drive for me, which is no big deal when it comes to records. And I now have a Subaru wagon, so I wouldn't have to borrow a car. What saved me from bidding on this lot was sheer forgetfulness: I didn't check eBay for a couple of days and, voila, the auction was completed and the winning bid was $504.99. Would I have won if I had bid. Not sure? I may have gone as high as $600, but, then again, maybe my forgetfulness was actually my subconscious saying, "idiot, you don't need 900 more 78s – you've never even listened to half of the ones that you have." And, the real me would have answered: "It's not the listening, it's the possessing. You should know that by now, you idiot." Either way, I'm the idiot, aren't I?
Speaking of idiocy, I'm on way way now to Hudson New York to visit a record store wherein the owner promised that he had some good stuff stashed away and would take them out for me to peruse the next time I was in town, which will be in about an hour and a half. Wish me luck.