Blue Notes and Monk at 100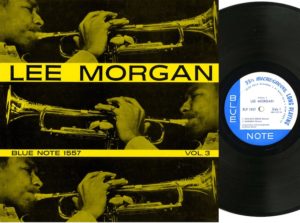 Thanks to Daryl and to all the thoughtful, and not so thoughtful (just kidding), commenters on the previous post. Given how sporadically I've been posting lately, it's nice to get some other voices involved. I do have a full complement of jazz records in my eBay watch list, so I will share some of the more interesting items, starting with Lee Morgan, Volume 3, Blue Note 1557. This was an original West 63rd New York 23 pressing that was listed in M- condition for the record and perhaps just a shade below M- for the cover. There were 21 bidders and 37 bids and a final price of $3,629 that jumped from $2,000 in the final seconds. This is not the highest price we've seen for this record, according to Popsike, which recorded a copy selling for $4,177 last year. Still, it's way up there. Brings to mind a note I received from one of our readers last week, linking to a recent article about million-dollar comic books and wondering why, jokingly, the recent Lee Morgan documentary didn't have a similar impact. Well, we're not yet in the millions, but our jazz records are definitely on the rise. Plus, we get to listen to what we collect, not just look at it, although looking at it is cool too, as was well discussed in the prior post.
I missed out on this one: Sonny Red, Out of the Blue, Blue Note 4032. This looked to be an original West 63rd Street pressing. I couldn't get a good read on the condition. On the one hand, the seller described it as "Beautiful!" "Excellent!" and "VG++"; on the other hand, where there was an actual place to list the condition, it was VG+ for both the record and the cover. The pictures certainly looked nice and the final price was just $338. Hey, if all the descriptions were over the top and the record and cover were still just VG+, that would be a fine price for a fine record and one that I would have been happy to have paid, given my sad history with this record, having owned a mint copy years ago and trading it for a record of lesser value, lesser music and lesser everything. I blame it on my youth.
Here's a nice 10-incher: Thelonious Monk Trio, Thelonious, Prestige 142. This was an original pressing listed in VG++ condition for the record and VG for the cover. The seller insists he grades without flaw and thus does not accept returns, so there is some risk involved. This one sold for $300, with a single bidder. It so happens that today is the 100th birthday of Thelonious, so I think we should all put a Monk record on the turntable and wallow in admiration of his his unique genius. I think I'm going to go for Criss Cross on Columbia, or maybe The Unique on Riverside, or maybe the one with Sonny Rollins on Prestige, or maybe, just maybe, all of the above. How about you?