Blue Notes, Brubeck and Bewildered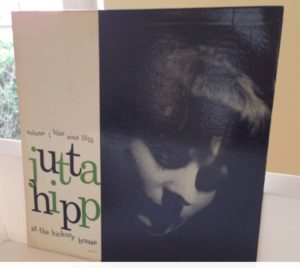 Many of you have probably noticed that the seller manusardi1 has some nice items on eBay now, including Jutta Hipp at the Hickory House, Volume One, Blue Note 1515. This is an original pressing. The record is labeled "pristine" and the cover looks to be VG++ or so. The bidding is in the $900 range and there are still three days to go. For those looking to spend big bucks filling in big gap in their Blue Note collections, there is also the companion Jutta Hipp at the Hickory House, Volume Two, Blue Note 1516. This one is also listed in "pristine" condition for the record, with a similar condition on the cover, perhaps VG++, perhaps a little less. This one is in the $800 range with three days left.
The seller bobdjukic is also back with some jazz records, including: The Dave Brubeck Quartet, Time Out, Columbia 8192. This is an original stereo pressing with the 6-eye labels. The record looks to be in M- condition and the cover is VG++. The bidding is in the $100 range and there are still two days left in the auction. History has shown us that this seller is able to sell jazz records for prices that flout conventional market expectations. I don't follow Brubeck that closely so I took a look at Popsike and discovered that there have been many instances of stereo copies of this record selling for $200 or more. That surprised me but, hey, it is a great, classic record. Even though there were probably many more copies pressed than most jazz records, finding an original in great condition is probably not so easy these days. After all, the first pressings were produced nearly 60 years ago, at the end of 1959.
In quickly browsing through the through the seller's other listings, I didn't seen any whacky prices that jumped out at me, as they usually do, but I may have missed something. To the contrary, I may have even noticed a couple of potential bargains, including Benny Green, Walkin' and Talkin', Blue Note 4010. This looks to be an original West 63rd Street pressing  listed in VG++ condition for both the record and the cover. With less than two days left, the record is still in the $60 range. There is a reserve price, however, so bargain hunting may not be a reality for this one.
Finally, I have this one for you today: Sonny Clark, Cool Struttin', Blue Note 1588. This is not an original pressing. One label is West 63rd, the other is New York USA. The record and the cover are listed in Ex condition. There are less than two days left on the auction and the bidding is close to $1,400.
Why?