Blue Notes In Any Condition for the $1,000 Bin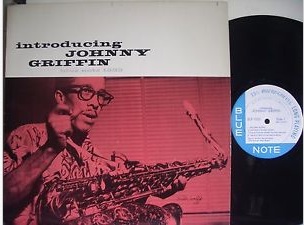 We were finally back on eBay this way and found some interesting items, starting with Introducing Johnny Griffin, Blue Note 1533. This was an original Lexington Avenue pressing, The record was graded in Ex condition, but the seller's description made it sound closer to M-. I tend to trust the grade rather than the description, and in this case the seller at least tells us that Ex means VG++ in the Goldmine rating system that we use. The cover was probably VG++ as well with some writing on the back. So, to be clear, the record was not in M- condition for either the record or the cover. I reiterate that because it sold at a price you would expect for an M-/M- copy, which was, ta da, $3,349.
The same seller had this one: Jutta Hipp with Zoot Sims, Blue Note 1530. This was an original Lexington Avenue pressing. The seller graded this one between VG and VG+ for both the record and the cover, although the cover sounded closer to VG based on the description. So this one wasn't M-, wasn't VG++ and wasn't even VG+. It sold for $1,651.
Staying in the $1,000 bin today, there was also this: Hank Mobley and His All Stars, Blue Note 1544. This was probably an original with the New York 23 labels, although the seller only showed one label and didn't include any explanation in the listing. The record was in VG+ condition and the cover was VG. The price was $1,259.56. I guess the lesson is that if you find an original, early Blue Note by the right artist, even if it is not in such great condition, and the price is reasonable, it's probably a pretty safe investment. Someone will want it.