Blue Train: Honing In On The Original Labels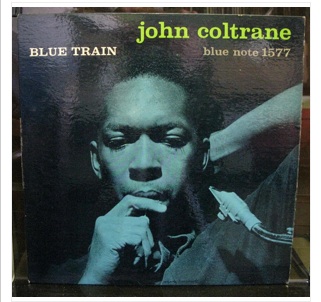 Here's a great one from our friend Don-Lucky on Blue Train:
Good afternoon Al,
I am not sure if your were watching this one already or not, but it sold quite for a record high today…
John Coltrane BLUE Train Blue Note 1577 w.63rd 23 NM!
Item Number: 400138742036
Selling Price: $1838.04
http://cgi.ebay.ca/ws/eBayISAPI.dll?ViewItem&item=400138742036&ssPageName=ADME:B:EOIBUAA:CA:1123
I was also chatting with Larry Cohn about this one earlier in the week and here is what he had to say on this auction:

"BLP 1577 was issued in what we commonly consider the first pressing with the old (leftover in stock) 63rd NEW YORK 23 label on one or the other sides.    The 63rd NYC both sides pressings, which commonly circulate, overlap with the first pressings, but are not probably "old" in that they would have been in use, covering several pressings, from 1957 through much of 1959.  That is why I consider them 2nd pressings by default.
I did a calculation once based on frequency of occurrence (I have seen hundreds of these records over the years) and determined that RANDOMLY there would have existed in the neighborhood of 5 copies total of 1577 with the old 63rd NEW YORK 23 label on BOTH SIDES.   I have never had evidence of any of these actually existing in a collection, but one could easily be buried away somewhere right now, or any that once existed could have been discarded over the years, having been worn out/damaged via play.  So the one side version is considered the first pressing, by default.   The reason I calculated such a low number is simple: we are dealing here with using up  some obsolete older labels that remained in stock.  Same thing happened famously with 1568.   Oddly enough my low calculation is based on rarity of Side 2 bearing NY 23, which is the description of the eBay item!  So I would have to slightly up my calculation –but it would still at this point point to say a dozen or so NY 23 both sides probably pressed –way low  in any event.  You have to remember that at break points in BN's history, the split label varieties were all random –with such numbers as 4069 (63rd vs NEW YORK USA) or 4245 (NEW YORK USA vs. A DIVISION OF LIBERTY) as common examples of split being common rather than an aberration due to timing."
…I really hope he puts all this in a book someday Al ! Have a great weekend.