Book Cooks and Cook Books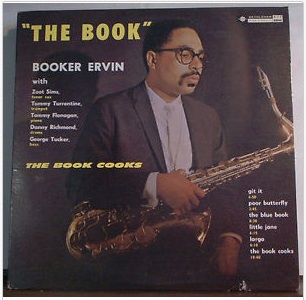 Here's some more jazz vinyl we've been watching on eBay, starting with Booker Ervin, The Book Cooks, Bethlehem 6048. This was an original pressing listed in M- condition for the record and VG+ for the cover. It sold for $616, proving, again, that it is not only the Blue Notes that are fetching collectible prices. This one was listed by my friend Steve at Round Again Records in Providence, RI, who has some nice records for auction last week. With all of the "books" that Booker recorded — Freedom, Song, Space and Blues — a Cook Book record would have been nice. Not sure what would have worked for a Cook Book, but I'm sure we can come up with some songs with a food theme here. I'll start with Fats Waller's "All That Meat and No Potatoes." and, of course there's Mingus' "Eat That Chicken." Any others?
This one seemed to be on eBay forever and it finally sold last week:
Wynton Kelly, New Faces, New Sounds, Blue Note 5025. The record was listed in VG+ condition with "minimal background noise throughout," which is why I wasn't interested and perhaps other potential buyers as well. The cover was listed as Ex. There was one bid at $290. Perhaps we'll see this back on eBay again. One-bid auctions always leave me a little skeptical that the seller had a friend put in a shill bid in the hopes of attracting other bidders, but no one else took the bait. It's tempting to do that when a record doesn't sell and I'm sure it works sometimes.