Breaking a Few Records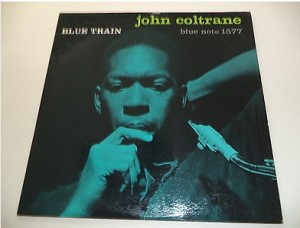 Didn't quite get in all of the jazz vinyl auctions I wanted to post from yesterday, so here are a few more.
John Coltrane, Blue Train, Blue Note 1577. This was an original pressing. The seller didn't give it a grade, but from the description is sounded like the vinyl was probably M-. The cover was probably VG++, based on the pictures. It sold for a whopping $3,000. That's far and away the highest price we've ever seen for Blue Train in the Jazz Collector Price Guide.
Thelonious Monk, Monk, With Sonny Rollins and Frank Foster, Prestige 7053. This was a New Jersey pressing, not an original. The cover also had the New Jersey address. This one has the Andy Warhol cover, which gives it some additional prestige, if you'll pardon the play on words. The record was in VG++ condition and the cover looked to be VG++ as well. This one was listed by bobjdukic, and he has somehow figured a way to get prices that no one else can match. For this second pressing, he was able to get a top bid of $955.21.
Here's another Warhol cover from the same seller:
Johnny Griffin, The Congregation, Blue Note 1580. This looks to be an original pressing. The record is listed in G+ or VG- condition, which means there is a lot of surface noise, acknowledged by the seller. The cover is listed in VG++ condition, although based on the pictures if I was selling it I would grade it no higher than VG+. This one sold for $475.99. A lot, but more reasonable than the Monk, wouldn't you say?