Bud, Ella, Bird, Jackie: A Day on eBay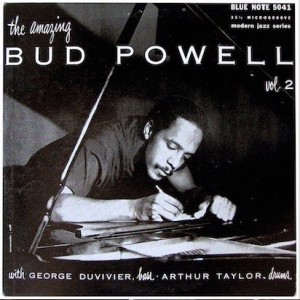 I've been off eBay for a few days recovering from my Bronx adventure, so today I will go back to my watch list and take inventory of what I have missed, starting with The Amazing Bud Powell Volume 2, Blue Note 5041. This was an original 10-inch pressing listed in near mint condition for the record and probably M- or VG++++ for the cover. It had a start price of $595 and did not get any bids. On the one hand I'm surprised because you just don't find many 10-inch Blue Notes in this kind of condition. And this is a great record, with a great cover. On the other hand, $600 is still a lot of money.
Everybody's favorite, bobdjukic, was back with some auctions and, as usual, some hyperbole. This was a highlight from Ella Fitzgerald, and I will give the full title because it is quite a weird mouthful: Miss Ella Fitzgerald and Mr. Gordon Jenkins (with His Orchestra and Chorus) Invite You to Listen and Relax, Decca 8696. According to the listing this is "Easily and By Far Ella Fitzgerald's Rarest Studio Album in Existence!" I love that stuff, and then it gets topped off with the old standby "ultra-rare." Somehow this stuff actually works. The record and cover were graded VG++, although the description makes it clear that VG++ for the cover is a wild stretch, since there is actually a partial seam split. Anyway, some how, some way, someone bid $259 for this record. I think I got my copy, in better condition, for $5 at a record show, which was not far from the going rate a few years back. One of our readers sent me this one from back in December, but I just had to make sure I covered it here, also from bobdjukic: Charlie Parker, Fiesta, Verve 8008. This was a trumpeter pressing with the black label. It was listed in VG++ condition for the record and the cover but, again, the picture and description of the cover belie the grading. This one sold for $864.54. Forget about the genius of Charlie Parker: What about the genius of bobdjukic
Finally, after the events of last week I feel like I must post this one: Jackie McLean, The New Tradition, Ad Lib 6601. This was an original promo copy listed in VG+ condition for the record and Excellent condition for the cover. It sold for $3,850.