Catching Up (Again) On Jazz Vinyl Auctions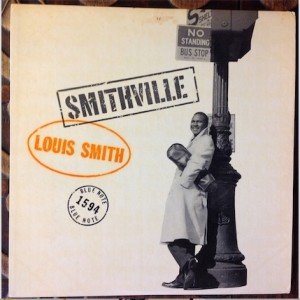 And now I will clean out some more jazz vinyl from my eBay watch list, starting with Louis Smith, Smithville, Blue Note 1594. This was an original West 63rd Street pressing. The seller listed the record and cover as VG++, although the picture of the cover looked less than VG++ to these eyes. Nonetheless, the record sold for $1,677.
Jazz By Sun Ra, Transition 10. This was an original pressing with the booklet. The record was listed in Ex condition and the cover was VG++. The final price was $1,475. In a similar vein there was also Sun Ra and His Solar Arkestra Playing Secrets of the Sun, Saturn GH 9954. This was an original pressing. The record was probably VG+ based on the seller's description and the cover was also VG+. The final price was $1,135.
These have all been mentioned in previous posts, but now we have final prices to consider:
Cliff Jordan, Cliff Craft, Blue Note 1582. This was an original pressing listed in M- condition for both the record and the cover. This was at about $700 at the time we posted and we speculated that it might move into the $2,000 bin. Alas, it did not, selling for a paltry $1,564.
Elmo Hope, Meditations, Prestige 7010. This was an original New York pressing. The record and cover were both listed as being in Ex condition. This was only in the $100 price range when we posted, but it would up selling at $440. Not too high a price for an original early Prestige.
Freddie Redd, Shades of Redd, Blue Note 4045. This was an original pressing listed in at least VG+ condition for the record and Excellent for the cover. The price was a very fair $635.55 and, no, 'twas not I that was the winner. While I accept that this is the market, I don't accept that I have to pay market prices, even for a record I want very much, such as Shades of Redd.
This one has certainly generated a heap of discussion here at Jazz Collector, but I need to close the books on this one so that when people do searches the final price will appear in all of it's infinite glory: Gerry Mulligan, Night Lights, Philips 600-108. This was a stereo pressing with shrink wrap. It was from the Dr. Herb Wong collection sold by funkyousounds and somehow it fetched a final price of $434. I just took a quick look at some of their current and recent auctions and there continues to be some weird prices. Just a couple for the record (so to speak):
Ben Webster Meets Don Byas, BASF MPS 20658. Was this the original pressing or was the original on Prestige? I though Prestige was first. This one even had a cutout hole. Yet, it sold for $162.49.
L.A. Four on Concord, Just Friends. This is a sealed record. You'd have been hard-pressed to give this record away free a few years ago. This bidding on this is now more than $100. Go figure.