Catching Up: Blue Notes, Prestige, Clef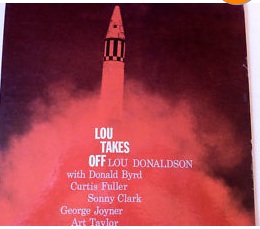 Let's catch up on some odds and ends jazz vinyl we were watching last week:
First one of the heavyweights: Lee Morgan, Indeed, Blue Note 1538. As noted this was an original Lexington Avenue pressing. This one looked to be in M- condition for both the record and the cover and was described by the seller as "museum quality," which is an interesting term we don't see very often. We predicted that this one would make the $2,000 bin and speculated that it would perhaps even hit the $3,000 bin. It sold for $2,450.
Another really nice one that fetched top dollar: Lou Donaldson, Lou Takes Off, Blue Note 1591. This was also an original pressing, also in M- condition for the record and the cover, also described as a "museum copy." It sold for $766.99, which is the top price we've seen for this one in the Jazz Collector Price Guide.
I've never seen this cover on this record:
After Hours With the Prestige Jazz All Stars, Prestige 7118. This is clearly a second press, with the New Jersey address on the label rather than New York. It was described as an original pressing in VG+ condition. It sold for $78.70.
If I were buying these days, I would have bid on this: Bob Brookmeyer Plays Bob Brookmeyer, Clef 644. Not that I am a huge Brookmeyer fan, although I do like him, but it's an original Clef with a great cover by David Stone Martin, and I do value those. This one was in VG+ condition and sold for just $46, so I might have even won it.