Nov 23, 2009 $1000 Records, Blue Note, Jazz Vinyl, Jazz Vinyl on eBay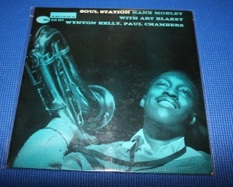 In my panic over eBay's glitch yesterday, I tried a bunch of different searches to see how I might be able to alternatively maneuver through the jazz records. I may not have found a smooth alternative, but I did find a lot of pretty nice records for sale, many of which closed last night. Here are some of the interesting ones:
Hank Mobley, Soul Station, Blue Note 4031. This was an original pressing with the West 63rd Street address and it was offered by the seller roverd-90, who has been putting up some very nice jazz vinyl lately. This one was listed in M- condition for both the record and the cover. It sold for $1,232, so welcome, again, to the $1,000 bin. According to our calculations, this is the fourth time this record will have surpassed $1,000 in the Jazz Collector Price Guide.
Rocky Boyd, Ease It, Jazztime 001. This was an original pressing, the record features
Kenny Dorham and the seller was herschel78, who has also been selling some nice jazz vinyl lately. This was in M- condition for the vinyl and VG++ for the cover. The price was $431.60.
Zoot Sims and Joe Newman, Lockin' Horns, Rama 1003. This was an original pressing. The vinyl was listed as M- and the cover was VG++. The price was $260. I thought it would sell for more than that. I'm watching it because I have a copy I'm thinking of selling. Based on this price, I'm not so sure — my copy is not a duplicate, it would just be one less record in the collection.
Tags: Hank Mobley, Jazztime Records, Joe Newman, Rama Records, Rocky Boyd, Zoot Sims