Catching Up: Morgan, Blakey, Kenny Dorham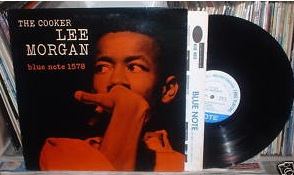 Here are a few records we've been watching:
Lee Morgan, The Cooker, Blue Note 1578. This seemed to be an original pressing listed as being in near mint condition. The price was $741. It's hard to think of a record selling for $741 as being a bargain but given Blue Note prices lately, this seems kind of low. I had expected it to break into the $1,000 bin.
Because of some of the chatter on the site, we've also decided to keep an eye on more second pressings, such as this one: Art Blakey and the Jazz Messengers, The Big Beat, Blue Note 4029. This was a New York USA pressing — not an original — and it was
in just VG+ condition for both the record and the vinyl. Still, it sold for $54, which is probably what an original of this record in this condition would have fetched a few years ago.
This one was tempting (it always helps to have a nice picture with the auction): Kenny Dorham and the Jazz Prophets, Volume 1, ABC Paramount 122. This was an original pressing in VG++ condition, close to near mint, and it sold for $426.